Saving baby Mariam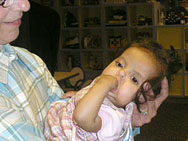 Sheila
just reminded me about
this story from last year
, perhaps the most fitting story I can think of for this feast of our Lady, our Blessed Mother - a child is saved in Iraq, with the help of a heroic Navy medic, some incredibly dedicated Marines who continued his fight for life, and the power of God manifested by prayer through the intercession of Our Lady, Mother of God.
An excerpt:
...The last week of September, with Mariam's case still bogged down in bureaucracy, Captain [Dr. Sean] Donovan stopped by Father Bishop's office. The battalion was "ripping," as Marines call the process of packing up to leave Iraq. Donovan was despairing, feeling they had let Walsh and the others down by failing to get the baby out.
"Have you prayed about it?" the priest asked Donovan.
"What?" Donovan asked.
"Have you prayed?" Father Bishop said.
Donovan sheepishly admitted he had not. Bishop suggested Donovan go to the small chapel next door and say the
Memorare
, a prayer to Mary, the mother of Jesus, which in part reads, "Never was it known that anyone who fled to your protection, implored your help or sought your intercession, was left unaided."
Sean Donovan knelt down and said a Christian prayer for a Muslim girl whose Anglicized name is Mary.
The next day, Donovan opened an e-mail notifying him that Mariam had been cleared for medical evacuation to Boston.
Read the whole thing at
"Saving baby Mariam" - The Boston Globe, December 4, 2006
and a follow-up story
Honoring their fallen" - The Boston Globe, September 3, 2007
. Reader's Digest also did a full story on
The Baby and the Battalion
last May that adds some additional details.